Bimota is a small, Italian manufacturer of custom and production motorcycles. It was founded in 1973 in Rimini, Italy by Bianchi, Morri and Tamburini. The company name is a portmanteau derived from the first two letters of each of the three founders' surnames, i.e. Bianchi Morri Tamburini. Because the state of frame design and overall packaging was poor,[1] Bimota concentrated initially on building high-quality motorcycles around existing engines. From the beginning they customised the top models of Suzuki, Honda and Kawasaki. During the late 1970s, Bimota also helped develop and build motorcycles branded as Lamborghinis. In the 1980s they also customised Yamaha and Ducati motorcycles.
Bimota db6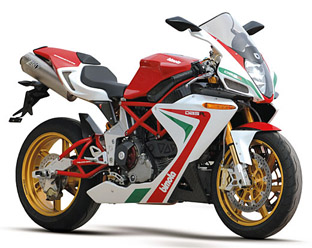 Bimota db6
Bimota db6
Bimota db6
Bimota db6
Bimota db6
Bimota db6
Responsible for the sort of behavior that would see us all doing hard time in the States, Anaclato Bernabe, the Bimota PR guy, was taking us to lunch. In a hurry to spend two hours munching through a seven-course feast, there was no time to admire the stunning Italian scenery streaking by to the sides. Thankfully, we would lose Anaclato after lunch and get a better opportunity to enjoy the $30,000 handmade Italian beauty, and the equally stunning countryside inland from the scenic Adriatic coast.
As part of an aggressive re-birth of the company that three years ago was closed for production and in the hands of the bank, Bimota had invited us to Italy to tour the factory and ride the new bikes. Purchased by Italian businessman Ing. Roberto Comini in 2003, the financial investment into this famous brand that traces its beginnings back to 1973 is substantial. This is good news for Bimota aficionados in America. With the radical Tesi 2D already on American soil, the DB6 Delirio is hot on its heels, and it will be joined by the DB5 and DB5R sport bikes.